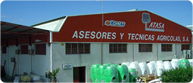 Asesores Y Técnicas Agrícolas S.A., was founded in 1988 with the sole aim of the distribution- under exclusive basis -  and within the spanish market,  of the agricultural pumps COMET make-trade name. 
Their founders with ATASA brand, experts and familiars with a wide range of agricultural machinery suitable for the protection of crops , rely on their experience and in the implementation of the I+D+innovation method to launch into the market, the different types of machinery that, under the EC today´s rules, they place at their customers disposal. 
The experience gained in the spanish market added to our needs to gain further  knowledges every day, prompt us to position ourselves towards those out of our borders or foreign markets, starting since 1995 with the development of associations with other commercial Co´s working in the same field, also with the setting up of our own Dpt of FOREIGN TRADE. This way of acting has lead us to the setting up, in CHILE, of a branch office from where we are able to cover an after-sale service covering the Southern Cone, together with  several other countries all over the world.
Our CUSTOMERS and our HUMAN team  which form our Company, make up a mixture of knowledge, experience and youth that turn us up to be a working force prepared to face any incoming future challenge.
We really hope that once you have looked through our web page, this will of help for you to know  our products and our Company,  in a better and wider way. 
We, therefore, ramain looking  forward to your future orders, comments and/or any suggestion-s you would like to let us know.